1000W, 1500W HSP Hot Swap models

BAA

(Buy America Act)

compliant

Applications

Gas and Oil Refineries
Safety Systems
Communications
Air Traffic Control
Financial Services
Railroads/Mass Transit
Nuclear Control Systems

Hot-swappable plug-in power supplies.
Designed to be combined in an N+1 fault-tolerant power system.
99.9999% System Reliability.
No single point of failure.
Built-in forced current sharing and OR-ing (reverse battery protection) diodes.
Factory standard options: B: Battery Charger M: Meter, R: ORing Diode (all options can be combined).
Mounts in 19-, 23-, and 24-inch equipment racks, or can be wall-mounted.
All models include power factor correction (PFC).
In-rack factory standard for series configurations, including built-in back-biased diodes up to 600V d-c.
Optional Mil-STD-461 compliance
Optional environmental compliance (Includes reduced susceptibilityto shock, vibration, temperature, humidity and fungus.)
The Kepco HSP series provides mission critical power. HSP comprises a group of twelve models, eight 1000 watt power supplies with outputs from 3.3 volts to 125 volts and four 1500 watt power supplies with outputs from 15 volts to 125 volts. All models feature current-sharing for parallel redundant N+1 operation. Models with the or-ing diode, option R, are capable of hot swapping when plugged into Kepco¹s RA 60 series rack adapter. Models with a digital meter, option M, are also available (see photo, right). A mechanical keying scheme allows the user to define which power supply will plug into a specified slot in the housing. Output voltage and current limit settings are adjustable from the panel and may be remotely adjusted.




HSP (M)(R)
with Meter and OR-ing Diodes
The 1000 watt HSP have a wide range a-c input (90-277V a-c). The 1500 watt models operate from 180-277V a-c mains. Both feature an active power factor correction (PFC) front end to suppress harmonic generation per EN 60555-2 and EN 61000-3-2.

HSP have built-in "or-ing" diodes for redundancy paralleling and a hot swap" capability. These are indicated by the suffix "R" added to the model number.

Kepco can also provide full service customized DC power distribution systems to match the power supply output(s) with your load(s).

Front view showing
three HSP models in RA 60 housing
HSP are CE Marked per the Low Voltage Directive (LVD), EN60950 and the EMC Directives, and is compliant with UL 8750, Standard for LED Equipment. See applicable Declaration of Conformity.

This power supply is ideal for applications requiring fault tolerant power systems; see Relevant Technical Articles.

All HSP modules are suitable as DC-DC converters, however note that Safety Agency approvals are valid only for a-c input. DC input voltage ranges for HSP models are as follows:

1000W: 125V - 420V d-c
1500W: 250V - 420V d-c

Rear view of the HSP
Standard rack adapters accommodate in-rack paralleling for higher current capabilities as well as in-rack series configurations for higher voltages.
Kepco's RA 60-W wall-mount rack adapter allows hot swap mounting where space considerations prohibit standard racks.

RA 60-W Rack adaopter shown in down position

RA 60-W Rack adaopter
shown in up position
Kepco's HSF Series of plug-in power supplies also features current sharing and hot swappablity, in 50 Watt, 100 Watt and 150 Watt power ranges, with outputs from 5V to 48V d-c.
Need a ruggedized HSP? See Kepco's new submersible KHX Series.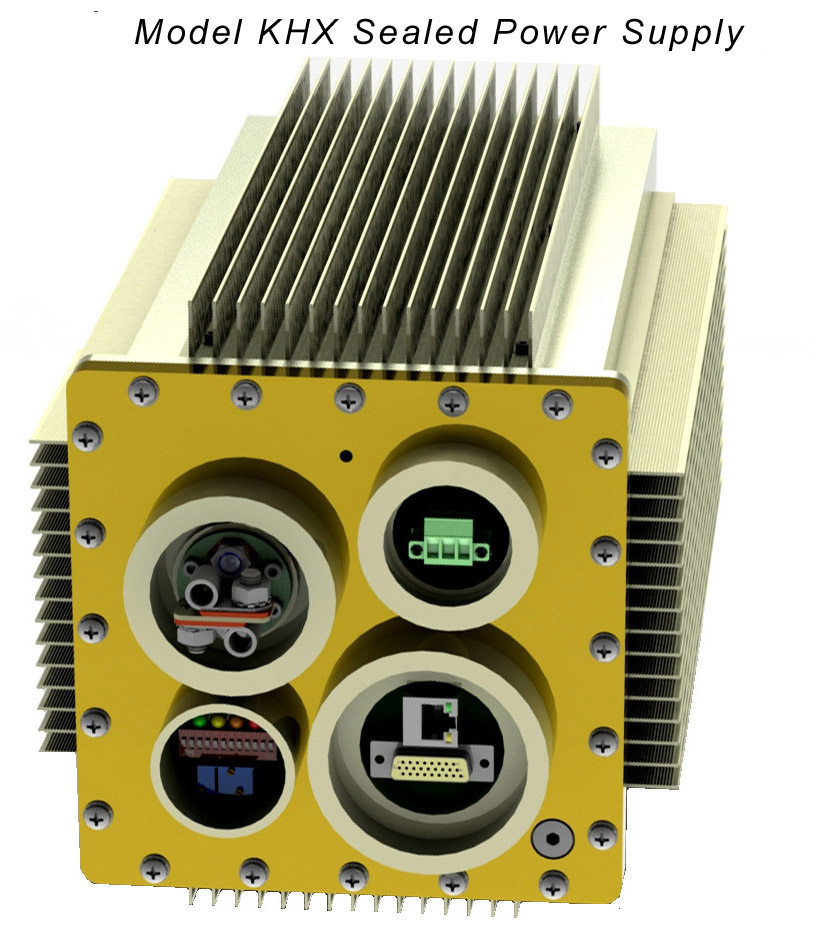 For HSP reliability in harsh, wet and unusual environments, see Kepco's KHX Series of fault tolerant power supplies.