Models JQE 100-2.5DM - half rack (top left),
JQE 25-40DM - full rack and JQE 25-4DM - quarter rack (bottom)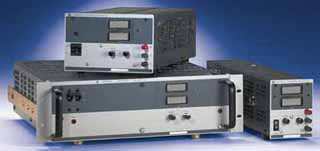 Series JQE power supplies are systems-type voltage stabilizers with current limiting. They are available in a variety of ratings: 100 watts in a 1/4-rack package, 250-500 watts in a 1/2-rack package, and 1000 watts in a full-rack package. These power supplies offer ultra low noise and ultra low ripple at the output. They are MIL-STD-461 compliant.
The traditional analog meters (M Models) have been replaced by digital meters on DM models. Availability of models with analog meters is limited and they will be discontinued in the future.

JQE Power supplies are are UL® recognized. See specific models for details.

Models with Analog Meters - Limited Availabilty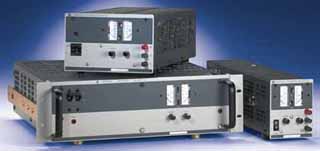 For OEM applications all JQE models are available in a modular version (without meters)
Optionally, the front panel knobs can be replaced with locking-type screw-driver-adjustable controls by specifying models with suffix "L."
The tabulation of the effective series resistance and inductance in voltage mode and the effective shunt resistance and shunt capacitance in current mode (see Models Table), is done to allow a calculation of the output impedance versus frequency.
JQE are CE Marked per the LVD, EMC and RoHS 2 Directives. See applicableDeclaration of Conformity.
JQE's - the ultra quiet linear power supplies that helped confirm Einstein's general theory of relativity. LIGO'S achievement of observing gravitational waves has been recognized with the award of the 2017 Nobel Prize in Physics to Professors Rainer Weiss (Massachusetts Institute of Technology) and Kip Thorne and Barry Barish (California Institute of Technology).
Design World APEC interview with Mark Kupferberg about the LIGO discovery of gravitational waves and the role of Kepco's linear power supplies