Kepco Receives Award From Export Council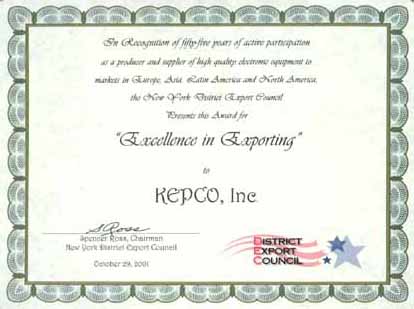 Al Carrozza, Bloomberg News, The Associated Press
October 31, 2001

Congressman Gary Ackerman presented an award for "Excellence in Exporting" to Flushing-based Kepco Inc. The award was issued by the New York District Export Council, whose members are appointed by the U.S. Secretary of Commerce.

Ackerman (D-Bayside) spoke on Monday about how Kepco Inc. provides economic benefits for all of Queens. He also spoke of the positive side of everyone doing their jobs and living their lives despite the Sept 11. attacks. And he compared the 240 employees of Kepco to members of the United Nations in terms of racial and ethnic diversity.
Kepco Chairman of the Board Max Kupferberg accepts the Export Council Award from Congressman Gary Ackerman while CEO Marty Kupferberg (left), Spencer Ross representing the Export Council, and Mark Kupferberg, VP of Manufacturing and Engineering, look on.

Kepco Inc. specializes in creating electronic power supplies that turn AC power into DC power. They are used in computer chips, laboratories and the military. With its products going to more than 30 nations, about one-tenth of Kepco's sales come from exporting and that could double within a couple of years, officials said.

"Since the electronics industry has been weak in the last eight months Kepco's commercial sector has faltered," said president Marty Kupferberg. "But, the military sector has held up and may grow as a result of the government's response to the terrorist attacks."

Overall, the company's prospects look good to Kupferberg. "Next year we will introduce new products, customers will have reduced inventories and they will place new orders," he said. "Next year will be much better than this one."
Later, the statewide coalition goTrade New York reported to Ackerman that 2,265 jobs in his congressional district in northern Queens, Nassau and Suffolk depend on manufacturing exports and 306 companies in his district exported $1.4 billion in merchandise, according to Jon Paone, managing director of goTrade. Paone hopes Ackerman will support the Trade Promotion Authority Legislation, which Ackerman plans to endorse once the proper proposal is adopted.
- The Associated Press
Copyright (c) 2001, Newsday, Inc.
This article originally appeared in Newsday, online at http://www.newsday.com