KEPCO'S NEW BIPOLAR POWER SUPPIES OPTIMIZED FOR INDUCTIVE LOADS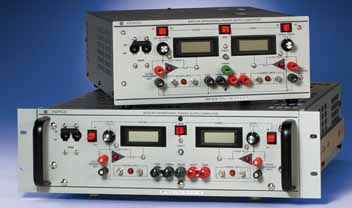 Kepco is pleased to announce the availability of its 200 and 400 Watt BOP (Bipolar Operational Power Supply) models optimized for driving inductive loads. The modified BOP units are designed to operate in a stable manner in Current or Current Limit Mode for loads up to 1 Henry. They are also stable with any R-L series load combination.

All specifications of the unit in voltage mode are unchanged from the standard model. In current mode the bandwidth of the BOP is reduced modestly. Correspondingly, the rise and fall time of the unit is increased somewhat (model dependent). Further, it is possible to reduce the bandwidth in current mode, in a predictable way, using one customer-installed component on the rear programming connector of the BOP.

This option makes the BOP more suitable for a wide variety of applications such as motor testing, testing of magnetic components (coils, speakers, etc.), industrial applications with inductive loads, driving CRT coils, cryogenic applications and powering correcting magnets for medical imaging applications or particle accelerators.

Consult factory for pricing. Delivery 4-6 weeks ARO.