Reputation
Kepco has earned its reputation as a premier provider of power system solutions over our 70+ year history. Kepco remains committed to working with our customers to use our innovative power supplies to add value to their products. Our wide array of flexible, feature-rich, standard power supplies positions Kepco as an ideal partner for products intended to be in service for an extended period of time.
History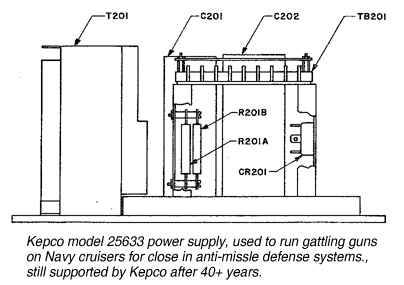 Kepco is a family owned and managed business that designs and manufactures products in Flushing, NY USA. We provide power supplies that are designed as capital equipment and last for decades. We continue to manufacture the same legacy products to satisfy our customers. We do so right next to brand new designs. Whether our products are new designs or legacy products, Kepco stands behind our power supplies with service and spare parts for decades.
Committment
The commitment of Kepco's owner/managers to support the solutions that we are proposing for 25 years and beyond is a claim that few organizations can credibly make. How can we differentiate our promise from those of the other manufacturers? Perhaps a true story will help.
In the late 1960's the New York City Fire Department (FDNY) approached Kepco for help in converting its telegraph era alarm box system into a modern, voice-based system. The data they were receiving was no longer sufficient. They needed to add a voice-based system to cut down on an epidemic of false alarms that was delaying response to real fires and costing lives.
Kepco designed, manufactured and installed an integrated system based on a standard Kepco power supplies. The system worked and the false alarms and tragic deaths decreased dramatically. 30+ years of servicing and supporting the FDNY Emergency Response System followed.

| | |
| --- | --- |
| Kepco's integrated, scalable, 2nd generation power solution for FDNY Emergency Response System has been continuously supported for more than 15 years. Kepco's original FDNY Emergency Response System was in place and supported for more than 30 years. | |

A few months after September 11, 2001, while the pile at Ground Zero was still smoldering, representatives of the Fire Department came to Kepco to discuss a new generation Emergency Response System. During the meeting, we were told that Kepco's 30+ year old system had transmitted the first alarm on 9/11. Manhattan dispatch had the alarm 17 seconds after first impact. The Fire Department told us that they credited the fast alarm with helping with the rapid response that allowed the firemen and police to get so many people out of the World Trade Center alive.
Kepco continued to support the legacy system for several years as we designed and built the next generation system. Now, almost 10 years after installation of the second generation Emergency Response System, Kepco's power supplies continue to help keep New Yorkers safe. And by the way, these power supplies are covered by a new extended warranty.
Kepco is a company that you can trust and depend on.